How it Works
Overview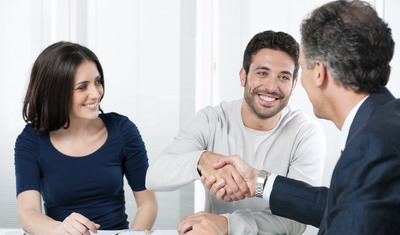 The process of purchasing a home, whether for the first time or the fiftieth, can be a complex process.  Home loan guideline changes, market changes, product availability changes, and an ever shifting landscape of necessary paperwork and loan requirements can make the process overwhelming, even to the most seasoned buyer.  Whether you are buying a primary residence, a second home or an investment property, and regardless of your timeline, the absolute best way to navigate the lending and real estate markets for complete peace of mind is through establishing a GOAL and developing a PLAN as early as possible with the guidance of professionals who are dedicated to a non-pushy, educational environment.
Unfortunately, mortgage professionals and real estate agents traditionally are trained to look for and work with people buying NOW.  This fosters an environment where the buyers who are buying immediately are unprepared and uneasy with the process.  Those who have a target timeframe that is further into the future are left aside or put on an email list instead of getting any real advice and assistance.
The OurHomePlan process solves both of these issues.  Whether buying now or in the future, our process first helps clients understand their goals, and develop them in a way that fits their budget and needs.  Once a goal is established and written down, an inventory is taken of where clients are NOW, and where they need to BE in order to reach their goal.  This assessment is done in a way that educates the client every step of the way.  Based on this data, a plan is developed with benchmarks along the way so that progress can be tracked.  The process culminates in a stress-free purchase of a home with the best possible terms.
The OurHomePlan process is complete home purchase planning made simple!
Step 1: Free Enrollment and Information Gathering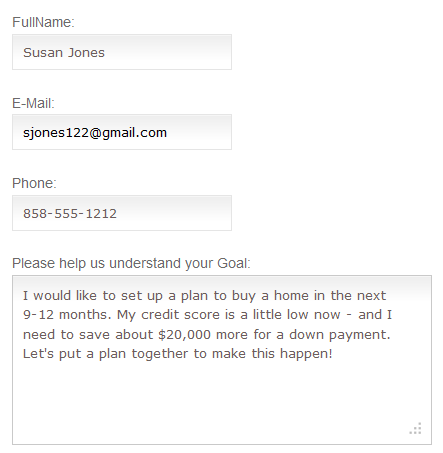 The process starts with you providing some basic information about you and your goals.  Your goals will evolve as you learn more about what is possible, but this is all that is needed to give us a great starting point.
Step 2:  Education and Planning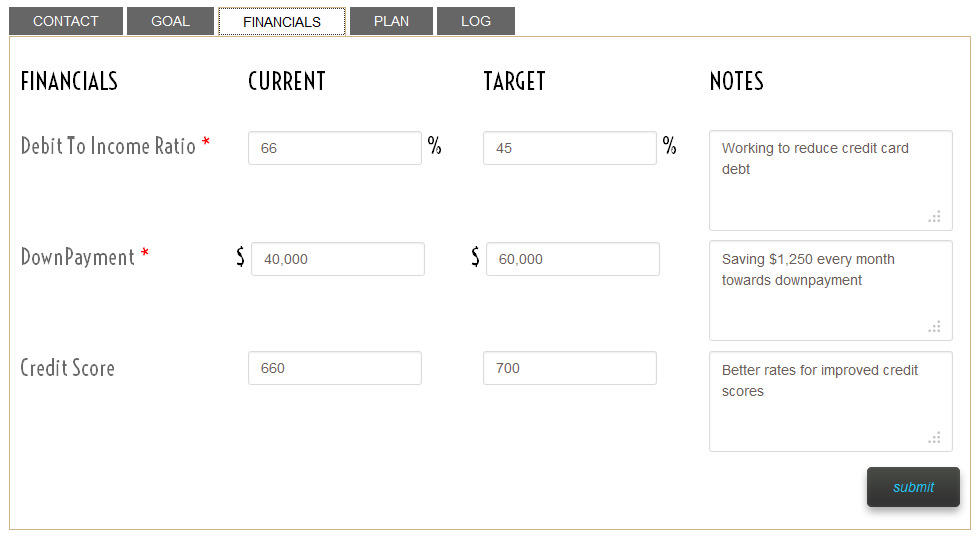 You will be connected with an advisor who will guide you through the process of refining your goal, and take an inventory of where you are now.  Your advisor will also explain the buying process and offer action steps to put you in a position where you can not only purchase a home, but purchase a home for the best possible rate and terms.  There are many "sweet spots" within the mortgage market where understanding small adjustments can pay off in a big way.  For example, in conventional lending, your interest rate can increase dramatically with every 20 points you go below a 740 credit score.  So, as part of a credit analysis, the target score would be set not just to qualify, but to qualify at the best possible terms.  Your advisor will work on your terms, with your input and on your timeline.  Your written goal, written plan, as well as benchmarks at set periods to track progress will be emailed to you as a part of your formal plan document.
Coming out of the planning session you will fully understand the buying process, debt to income ratios, loan to value ratios, what you can do to improve and maintain credit health, down payment requirements, prospective payments for different purchase prices, closing costs, determining cash to close and much, much more!  Your plan will address the way that your personal situation interacts with these issues, and help you navigate these items so that you can use them to your advantage!
Step 3:  Plan Implementation and Followup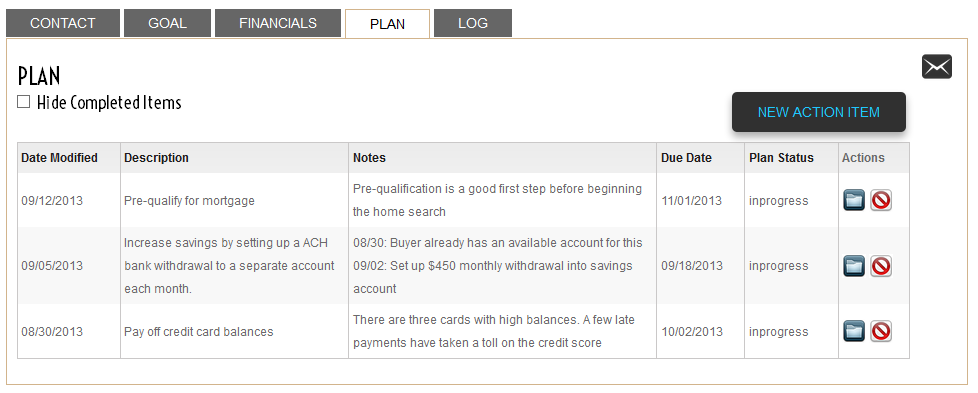 Everyones plan is going to be different.  Some will want to buy right away, and some will be planning for a future event.  Similarly, some will be perfect candidates to buy right away, and others may want or need to improve their financial situation before buying.  Your individual plan will reflect the individual aspects of your personal situation.  That being said, the plan means little and the goal will never be reached if it is not followed, and in some cases plans will need to be adjusted.  It is for this reason that milestones will also be set at the time the plan is made.  For example:  An individual might go through the planning process, and learn that they need $40,000 dollars in down payment funds to reach their specific goal, but only has $20,000.  If their target timeline is a year from today, we might set a quarterly milestone, or check in, where every three months the advisor will check in, track progress and adjust accordingly.  The idea would be that the client have $5,000 dollars added to the "down payment" account at each quarterly check-in, and therefore the necessary 40K when the target date is reached.
At each scheduled milestone, your advisor will adjust data based on your feedback and send an updated version of your written plan.
Step 4:  Reaching your Goal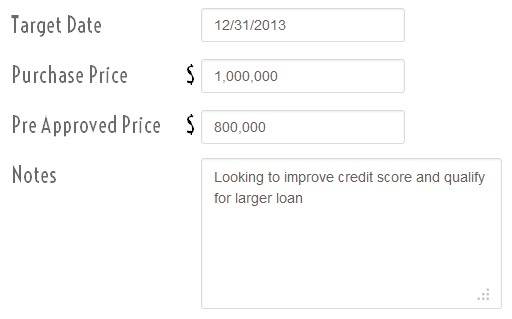 No matter the target date, and no matter the complexity of the plan, the ultimate benefit of the planning process is going into your home purchase with an education that is on par with industry professionals, the knowledge that you are completely prepared, and the understanding that you are qualified to buy a home with access to the best possible programs, rates, and terms.  Congratulations, you are ready to go!
Why it's Free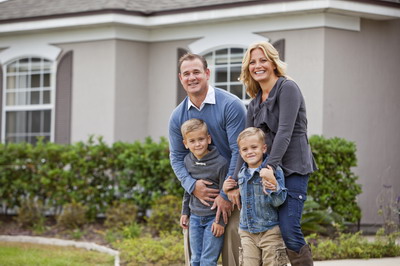 The best part of the entire process is that it is provided completely free of charge due to a sponsorship by our referring Agents and Lenders. We hope that you see incredible value in this process